PARC DES PRINCES WELCOMES 400 YOUNGSTERS FOR THE PARIS SAINT-GERMAIN FOUNDATION'S ANNUAL CHILDREN'S DAY
The Paris Saint-Germain Foundation held its annual Children's Day at the Parc des Princes on Wednesday 19 May, a major event dedicated to the youngsters who benefit from its programmes. 
Some 400 children who receive support from the Paris Saint-Germain Foundation's various programmes took part in what was a memorable event at the club's legendary stadium. These programmes include the Red and Blue Schools, the "Allez les Femmes" programme which supports women and children who have suffered domestic violence, the special football team made up of children from the Instituts Médicaux Educatifs (IME), as well as youngsters from partner charities such as Emmaüs Solidarité.
Following a tour of the Parc des Princes, the children headed down to the pitch, where they took part in a number of sports and recreational workshops especially created by the Paris Saint-Germain Foundation's team of educators. Joining them were a clutch of former Paris Saint-Germain players: Jessica Houara, Sabrina Delannoy, Laurent Fournier, Luis Fernandez, Omar Da Fonseca, Fabrice Pancrate and Eric Rabesandratana.
The children were surprised to receive an exceptional visit from the artists Wejdene and Fianso, emblematic figures of the new generation, who came to share a moment of exchange and conviviality by their side.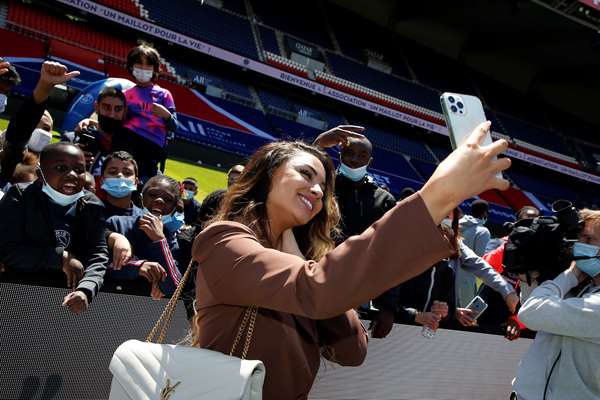 Candice Prévost, head of operations at the Paris Saint-Germain Foundation, said: "We are very proud to lay on an event such as this for youngsters, in spite of the health crisis, and that our former players came along to bring some joy and share in the fun. This special day at the Parc des Princes is the culmination of all the sporting and educational initiatives that the Foundation and its partners lay on for these children throughout the year. It also provides us with an opportunity to thank our partners for the commitment they show on a daily basis."
Through its foundation, Paris Saint-Germain brings its know-how to bear in helping disadvantaged children to flourish and develop. More than 16,000 youngsters benefit from its programmes every year.
Download the PSG Official App and subscribe to Pressroom notifications so you don't miss out on any of our content for the press.
Download